Real Photo Booths – 4 different styles. Our spacious arcade booths fit up to 10 people. Our open air booths are unlimited (within reason).  All of our Photo Booth Rentals, are ideal for a wide variety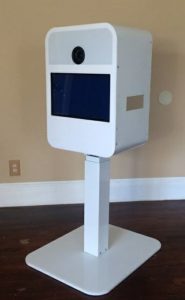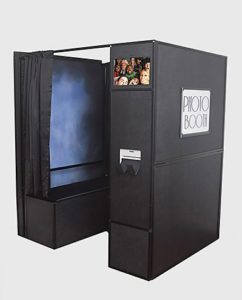 of events and parties including non-profit or corporate events, fund-raisers, weddings, graduations, and birthday parties.
 Custom Photo Strip Layout  –  Have your Wedding or event leave a lasting impression! Choose from one of our designs
or design your own!   We'd love to create the ultimate party or wedding favor for your guests. let them take home a custom keepsake photo strip or postcard that many of them will keep on their fridge or office wall for years to come.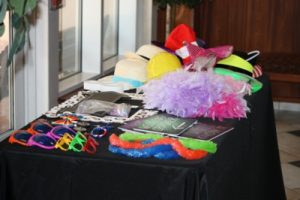 A table full of fun props – Photo Booth Rentals are about fun. When you make a Photo Booth Rental, our props make sure no one gets too serious.  We are constantly updating our large assortment of interesting and wacky props. When you rent a photo booth,  we can bring props tailored to your specific type of event.
Send your photo from the booth! –  Upload a full quality copy of photos to your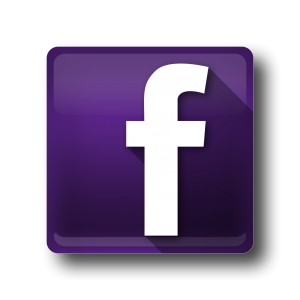 favorite social networking site from our Photo Booth instantly.   Send your photo strip straight to your phone or e-mail to yourself or someone you love.
Flash Drives of Your Event –  Digital images of every photo taken are delivered at the end of the night.  Once your special day is over, your and your guests can still revel in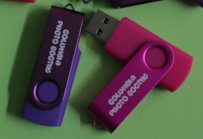 the fun. You will receive top quality HD copies of every shot on a thumb drive to keep  forever.  This is standard with all of Columbia Photo Booth Rentals.
Classy Keepsake Memory Book – We will nab one strip from every session and stick it straight into a leather bound Memory book, then remind each guest to sign it and write something for you.  Usually in Silver or Gold marker on black paper. This is a classy addition to all of our Photo Booth Rentals and well worth a small up-charge.
Quality and Technology – Every booth uses state of the art DSLR cameras, top of the line computers with the latest technology and lab-quality photo printers. We do not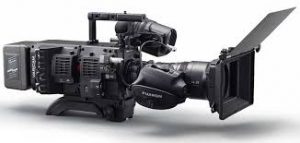 spare the expense instead using the best quality paper available and best ink you can buy for long lasting prints.  Many companies use cheap ink that fades in a few months.  Never Columbia Photo Booths.
No waiting  You will receive the highest quality prints you can get anyw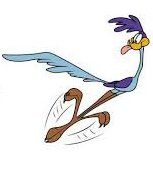 here. You and your guests will be pleasantly surprised at how quickly you are back to the party.  In most cases the prints are ready as you are exiting the booth.  We have been told we have  "The fastest Photo Booth printers in the East".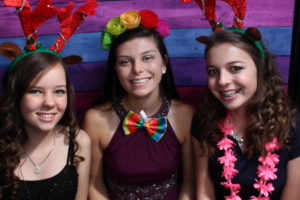 Double Prints – All booths come with double prints each time however when there are more than two guests in the shot, our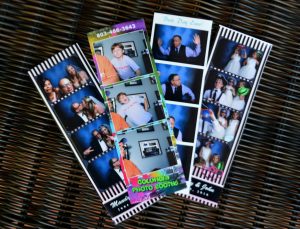 attendant will make sure everyone gets a copy!  Your guests can always choose color photos,  B&W or sepia, or choose one, then come back to choose another later!
Is your Wedding or event complete?
Wedding or Event with food & drinks
30 %
Wedding or Event with food, drinks, & a great DJ (TJ McKay Events)
70 %
Event with food, drinks, DJ and one of our Pro Photo Booths with an exciting attendant
100 %
Rent a Photo Booth from Columbia Photo Booth Rentals anywhere in South Carolina,  North Carolina, and Eastern Georgia.  With every event or wedding photo booth rental we do, we provide a super attentive attendant to make sure the booth runs smoothly and the guest have a fabulous time. We stand out from  other companies with our standards of quality and creativity wrapped up in an affordable package.
Make sure your event is memorable – Take your event or party to the next level, inject tons of fun, and create hours of smiles and laughter with a Photo Booth rental from Columbia Photo Booths. A rental from us is fast, easy and most of all fun!  Our booths use the latest technology to capture the intimate, hilarious, and unexpected moments that happen when couples and friends ham it up for the camera.
To hire us and our photo booth for your special event, contact us to see if we have your date available.  We'd love to answer any other questions you may have.  We can also meet with you at our office in Irmo so you can get a better sense of who we are and how we might be able to help you create an amazing event.
Let our staff add some excitement to your event! The confetti is optional but the fun... is guaranteed!